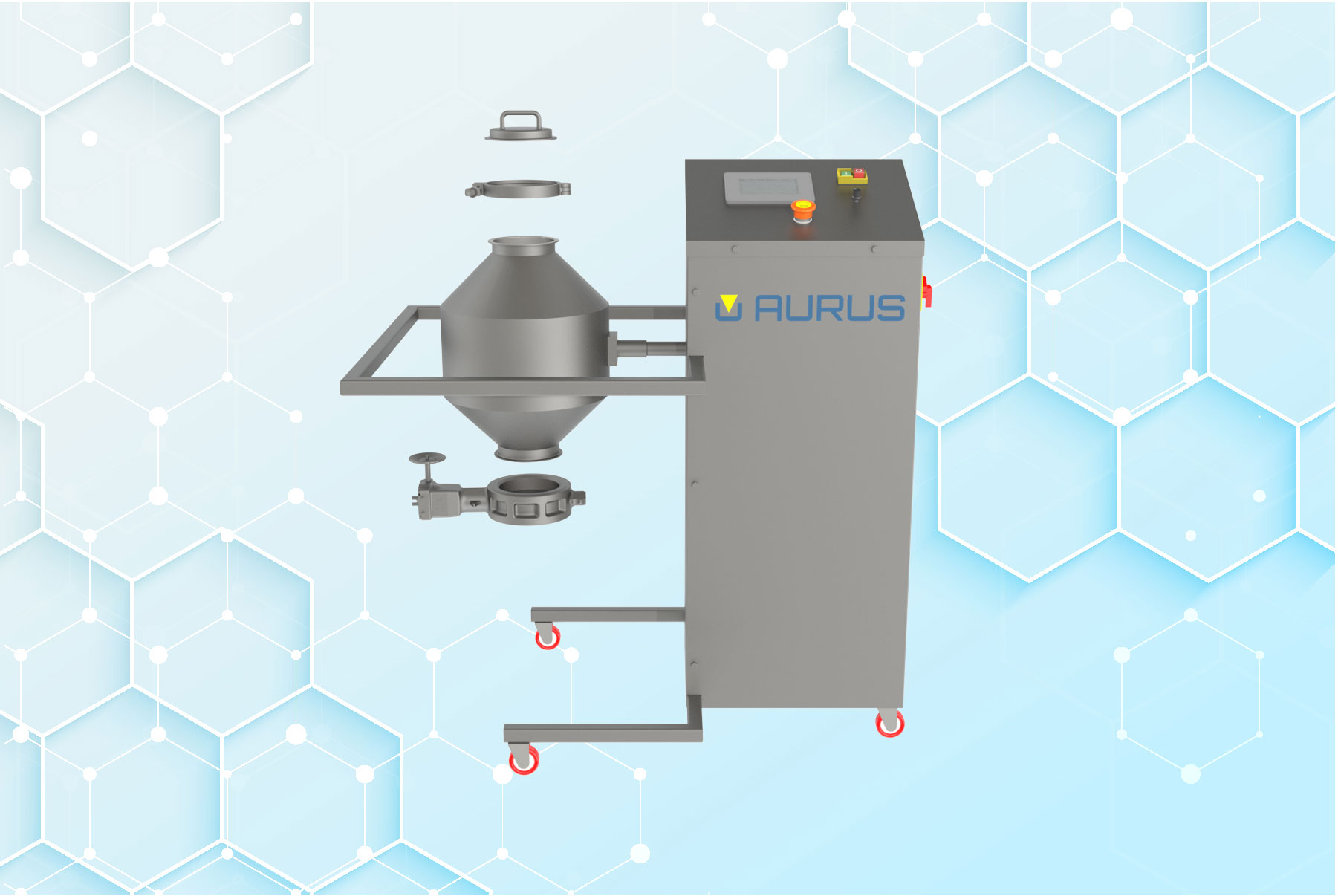 Double Cone Blender
Application & Process :
The Double Cone Blender, manufactured by AURUS, is a high-quality pharmaceutical machine specifically designed for the pharmaceutical industry. This top-of-the-line blender offers efficient and homogeneous blending of dry powders and granules, making it an excellent choice for your blending needs.
Operating Principle : The Double Cone Blender operates on a simple yet effective principle. It consists of two cone-shaped vessels connected at their apices. As the blender rotates, the materials inside are gently and thoroughly mixed due to the combined actions of gravity and the tumbling motion of the cones. This results in uniform blending and ensures consistent product quality.
Advantages over other Blenders : As a renowned manufacturer and exporter, AURUS takes pride in offering the best-in-class Double Cone Blender. Its design promotes gentle blending, preventing excessive shear or damage to sensitive materials. The blender's smooth interior surfaces also allow for easy cleaning, reducing the risk of cross-contamination and ensuring product purity.
Wide Range of Capacities : AURUS understands the diverse needs of the pharmaceutical industry and provides a range of Double Cone Blenders with capacities ranging from 30 litres to 5000 litres. This allows you to choose the right size for your production requirements, ensuring optimal blending performance and flexibility.
Complete Automation Option : To cater to the requirements of High sterile production, AURUS offers an optional complete automated system for the Double Cone Blender. This system includes features like pneumatic loading and unloading of materials, minimizing human intervention and enhancing operational efficiency.
If you are looking for a reliable and efficient blending solution, the Double Cone Blender by AURUS is the answer. Contact us today to learn more about this exceptional machine, its capabilities, and how it can benefit your pharmaceutical production. Our team of experts is ready to provide you with detailed information, address any inquiries you may have, and guide you in choosing the right Double Cone Blender for your specific needs. Experience the excellence of AURUS pharmaceutical machines and elevate your blending processes to new heights. Get in touch with us now to discover the advantages of the Double Cone Blender and how it can revolutionize your pharmaceutical manufacturing.
Benefits :
The build quality, design and repetitive converging & diverging motion assists in eliminating dead spots

Low-maintenance ownership experience due to a superb working stability with minimal noise & dust

Effortless cleaning is possible thanks to the absence of edges, corners and a highly-polished surface

High performance and an ultimate value on investment with multiple variant options based on your requirement
Models
Name
DCB-LAB
DCB-75
DCB-150
Motor
1HP
2HP
3HP
Charging Port
250mm Dia.
250mm Dia.
250mm Dia.
Discharging Port
4" Dia.
8" Dia.
8" Dia.
Gross Capacity
15ltr
75ltr
150ltr
Working Capacity
10ltr
60ltr
120ltr
(@0.50 Bulk Density)
3-5kg
25-30kg
55-60kg