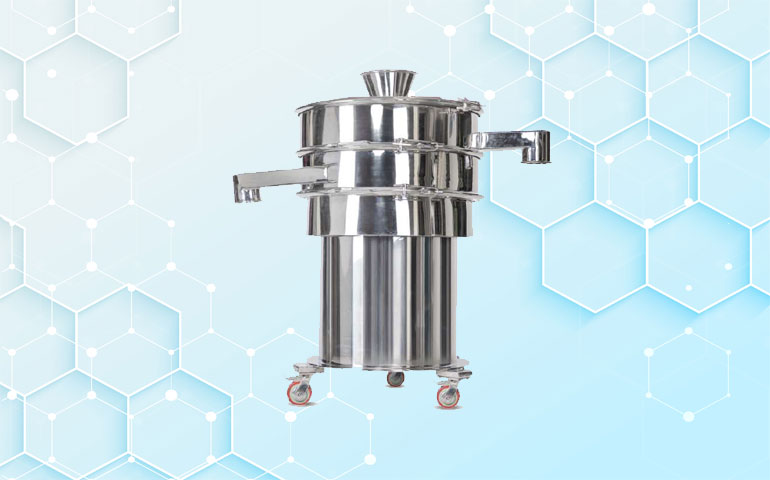 Vibro Sifter
Application & Process :
The Vibro Sifter, manufactured by AURUS, is a highly efficient and versatile pharmaceutical machine used for the separation and grading of solid particles from granules or powders. It is an essential equipment in the pharmaceutical industry, known for its exceptional performance, precise sieving, and superior product quality.
Function and Operation: The Vibro Sifter operates on the principle of gyratory vibrations, allowing for efficient particle separation. The material to be sieved is fed into the sifter through a hopper, and as the machine vibrates, the particles move across the screen mesh. The vibrating motion causes the smaller particles to pass through the screen, while the larger particles are retained. This sieving process ensures the desired particle size distribution and removes any unwanted contaminants.
Usage and Applications: The Vibro Sifter finds extensive usage in the pharmaceutical industry for various applications, including size classification, particle separation, and quality control. It is particularly suitable for the sieving of pharmaceutical powders, granules, and solid dosage forms. The Vibro Sifter ensures uniform particle size distribution, eliminates oversized or undersized particles, and improves the overall product quality and consistency.
Capacity and Models: AURUS offers a range of Vibro Sifter models with different capacities to cater to diverse production requirements. Whether you require a smaller capacity for laboratory-scale experimentation or a larger capacity for high-volume production, AURUS has the right Vibro Sifter to meet your specific needs. Our machines are designed for optimal performance and efficiency, ensuring consistent results and increased productivity.
Dust-Free Design: AURUS understands the significance of maintaining a dust-free environment in pharmaceutical manufacturing. The Vibro Sifter is meticulously engineered with a sealed and enclosed design to prevent the escape of dust particles during the sieving process. This dust-free design not only ensures the integrity of the products but also safeguards the health and safety of operators.
Compliance with CE and ATEX Norms: AURUS prioritizes compliance with international standards and regulations. The Vibro Sifter is designed to meet the rigorous requirements of CE and ATEX norms. The CE marking certifies that the machine meets the essential health, safety, and environmental protection standards within the European Economic Area. Additionally, the Vibro Sifter can be provided with ATEX certification, which demonstrates its suitability for operation in potentially explosive atmospheres. This compliance ensures that the machine adheres to stringent safety guidelines and contributes to a secure manufacturing environment.
The Vibro Sifter's dust-free design, coupled with its adherence to CE and ATEX norms, showcases AURUS's commitment to providing cutting-edge technology that meets the highest industry standards. Contact us today to learn more about the dust-free Vibro Sifter and how it can enhance your particle separation processes. Our team of experts is available to provide detailed information, discuss compliance certifications, and assist you in selecting the ideal Vibro Sifter for your specific production requirements. Take the next step towards achieving a dust-free and compliant manufacturing environment by contacting us now.
Features :
Dust-free design.

Energy efficient.

High performance, Low noise.

Double and Triple Decker arrangement

can be provided as per requirement.

cGMP Model with SS 316L contact parts and SS 304 non-contact parts.

Vibratory Motion Intensity can be adjusted.

Powder charging through a dust-free SS 316L hood.

Quick opening SS 316L clamps make disassembly, cleaning, and reassembling a breeze.

Mounted on sturdy Castor Wheels with brakes, this portable unit is easily transportable.

Rugged springs isolate the vibrating assembly.

Silicone moulded mesh.
Models
Name
KVS-12
KVS-20
KVS-30
KVS-36
KVS-48
Motor
0.25 HP
0.50 HP
0.50 HP
1.00 HP
1.50 HP
Capacity
10 to 60 Kgs
20 to 150 Kgs
30 to 250 Kgs
50 to 350 Kgs
60 to 500 Kgs